Welcome to Fly Tyers' Paradise
Ready to Craft Stunning Flies?

Hello Fellow Fly Tyer!
I have something exciting to share.
Meet the Premium range of hand-made *Renomed Scissors*!
These aren't just any scissors; they are extra special for tying perfect flies.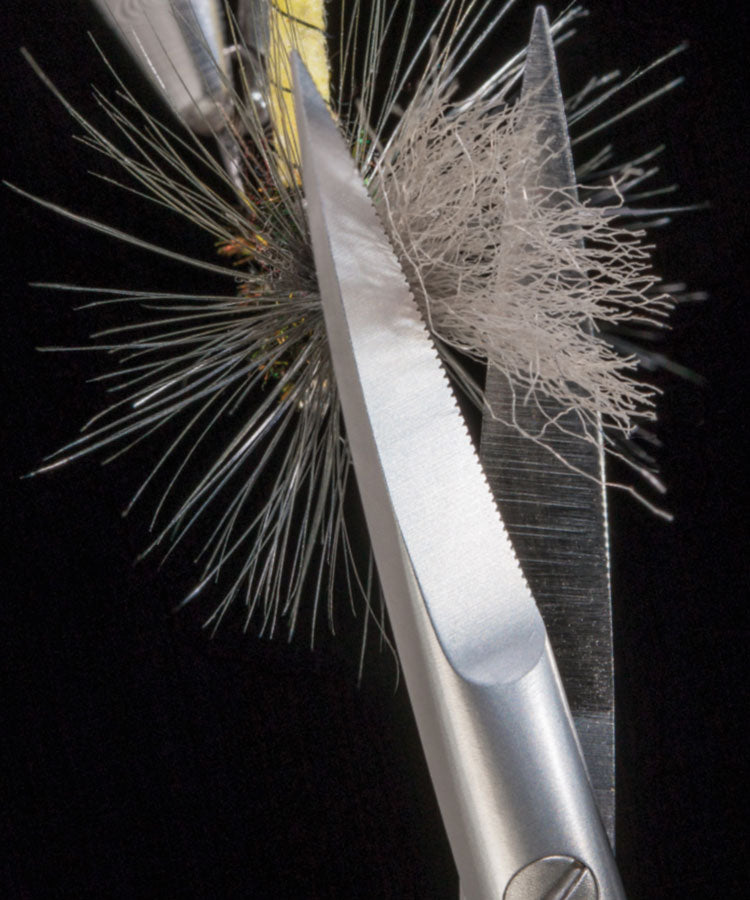 Why Are Renomed Scissors a Big Deal?
1. **Super Sharp**: Our scissors are incredibly sharp so they cut like magic! Cuts any material with ease - from natural fibers to synthetic materials. Nano-silk? No problem! Our SuperCut models will cut nano-silk and stay sharp. Prominent commercial Fly Tyers rely on Renomed scissors. And I think so should you!

2. **Handcrafted with Love**: Each pair of Renomed Scissors is made by hand. Yes, you heard that right! Real people put time and care into making sure your scissors are just perfect. These aren't mass-produced like most commercially available tying scissors.

3. **Made of Amazing Stuff**: They're made of medical-grade stainless steel. That's the same strong and shiny material that doctors use! It means these scissors are super tough and will stay sharp for a really long time. They are made from one solid piece of stainless steel, not forged like most cheap scissors. If you were a bit OCD, you could even sterilize the Renomed scissors in an autoclave.

4. **Feels Great**: They're comfy to hold so your fingers will be happy even if you're tying for a long time.

5. **Now in the USA**: The awesome news is that Renomed Scissors are now available right here in the USA! So, getting these amazing scissors is as easy as pie. The Japanese brand, C&F Designs use only Renomed Scissors in their fly tying kits, and so doe Petitjean in Switzerland.
Try Your First Renomed Scissor - Special Offer!
Here's a big surprise! If you're ready to try Renomed Scissors, we have a special deal for your first pair!

**Here's what you get:**
Your very own pair of handcrafted Renomed Scissors!
A fun, colorful guide with tips on how to make the coolest flies ever.
Ready to Begin Your Awesome Fly Tying Adventure?
Click the big button below! It's super easy! Your amazing scissors and the fun guide will zoom their way to you!
We can't wait to see all the fantastic flies you'll make with your Renomed Scissors!

Happy Fly Tying!

Phillip Hardy Burmeister
Owner - Renomed USA
That's why we've dedicated ourselves to crafting tools that meet your high standards. Our products aren't just 'good enough' - they're exceptional. And it isn't only our opinion - Renomed has won the European German Design Award a few times already. 
2016

We launched new, exclusive ranges of scissors into the market – GRAY, SILVER and BLACK LINE.

The company's products were endorsed by a number of awards won during various contests and exhibitions, including the prestigious IF GOLD DESIGN AWARD.

2017

In 2017 we received the German Design Award established at the initiative of the German Bundestag in 1953 and awarded by the German Design Council.

2019

Incredible honor for our company. Once again we are awarded with IF Design Award. This time in product packaging category.